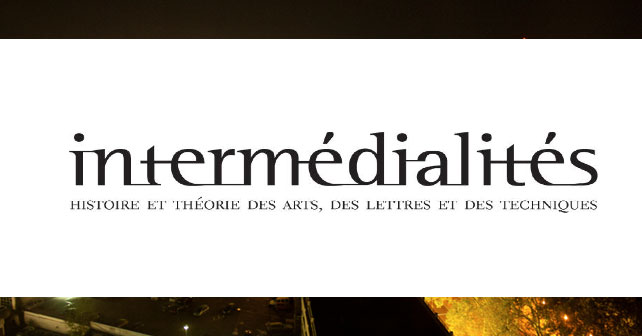 Beitrage zum Thema »Habiter (la nuit) / Inhabiting (the night)« gesucht.
Gerne weisen wir auf einen call for papers der kanadischen Zeitschrift Intermédialités für eine Sonderausgabe zum Thema »Habiter (la nuit) / Inhabiting (the night)« hin.
Beiträge können in französischer und englischer Sprache eingereicht werden. Deadline für die Einreichung von Beiträgen (max. 40.000 Zeichen) ist der 6. April 2015.
Die Herausgeber sind Luc Gwiazdzinski von der Université Joseph Fourier (Grenoble) und Will Straw von der McGill University aus Montréal.

www.intermedialites.com
www.theurbannight.com/about/blog/intermedialites-call-for-papers-special-issue-on-habiter-la-nuitinhabiting-the-night/
/////////////////////////////////////////////////////////////////////////////////////
Will Straw ist ebenfalls Direktor und Autor des Forschungsnetzwerks und Internetblogs The Urban Night.
»The Urban Night is the website of an interdisciplinary, inter-university research project concerned with the nocturnal life of cities.  Supported in its initial phases by an Insight Development Grant  from the Social Sciences and Humanities Research Council of Canada, this project studies the urban night from the perspectives of aesthetics, urban policy, social conflict and cultural innovation.«
Insbesondere die News-Sektion wird regelmäßig aktualisiert.