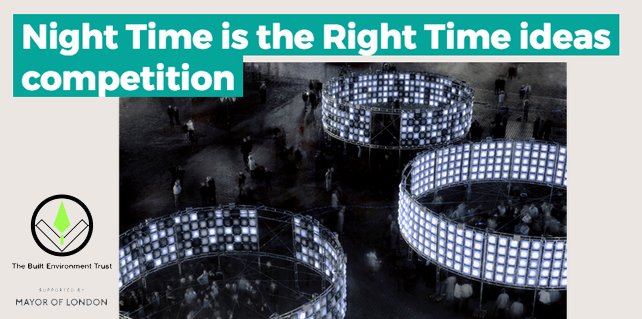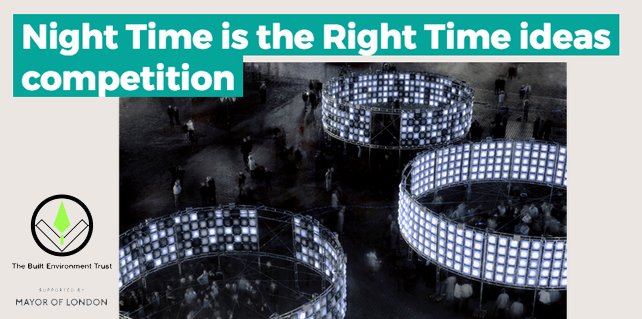 The London-based Built Environment Trust along with the Mayor of London are seeking ideas that could help the nightlife of cities work better.

Der Ideenwettbewerb richtet sich an eine breite Zielgruppe. Vom Architekten, Stadt- und Landschaftsplanern über Materialwisenschaftler und Akustikexperten sind alle Interessierten dazu aufgerufen ihre Ideen für better 24 hour cities einzureichen.
»The brief is broad: we want big visions and detailed specific thoughts […]. Is there a new acoustic material that might revolutionise the design of music venues? Should developers be encouraged to design-in nightlife? How can landscape design help alleviate social problems? Could the energy of night-time revellers be harnessed to feed energy back into our cities? Futuristic ideas and practical solutions will both be welcomed.«
Die eingereichten Beiträge werden von einer Jury aus Designern, Stadtplanern und Politikakteuren bewertet und sollen im Rahmen der geplanten Ausstellung Night Time is The Right Time in London gezeigt werden.
Es winkt ein Preisgeld von 1000 £.
Es wird – leider – eine Teilnahmegebühr erhoben (£25 +VAT / £10 for students).
Beiträge können bis zum 20. April 2017 eingereicht werden.
Mehr Informationen:
www.buildingcentre.co.uk/news/night-time-is-the-right-time-design-competition
/////
Als bisherhige Jurymitglieder stehen fest: Amy Lamé (Night Czar for London) Carl Turner (Carl Turner Architects/Pop Brixto), Dan Batterton (Legal & General Investment Management) und Dipa Joshi (Assael Architecture).
/////
The Architects' Journal (07.03.2017): Competition: How would a 24-hour city of the future look?
Article by Merlin Fulcher