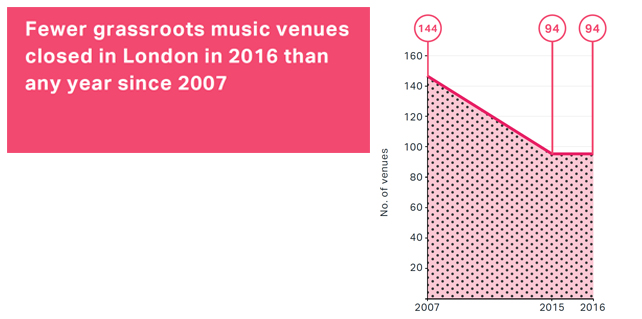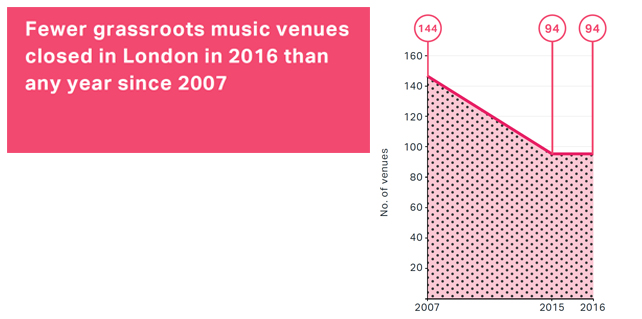 Sixteen months after the Rescue Plan for London's Grassroots Music Venues was
published the report »Making progress« offers an update on progress, plus new facts and figures.
Die im Rahmen des Anfang 2015 initiierten Rescue Plan for London's Grassroots Music Venues (SN8 22.11.2015) ergriffenen Maßnahmen wurden erstmals in Bezug auf ihre Wirksamkeit evaluiert. Dem Bereich Stadtplanung, zoning policies und dem sogenannten Agent of Change principle – zu verstehen als Rücksichtnahmegebot seitens neuer Nutzungen – kommt hierbei übergeordnete Bedeutung zu.
Zudem soll das Thema auch verstärkt in übergeordneten strategischen Planungsdokumenten – wie dem London Plan – Eingang finden.
Beispielhaft wie das Thema Stadt & Nachtleben – oder in diesem Fall Musik-Clubs – nicht nur assoziativ diskutiert wird sondern ganz konkret Eingang in die stadtentwicklungspolitische und stadtplanerisch-fachliche Praxis findet.

Mayor of London (2017): Rescue Plan for London's Grassroots Music Venues – Making progress
»Download (PDF 2 MB)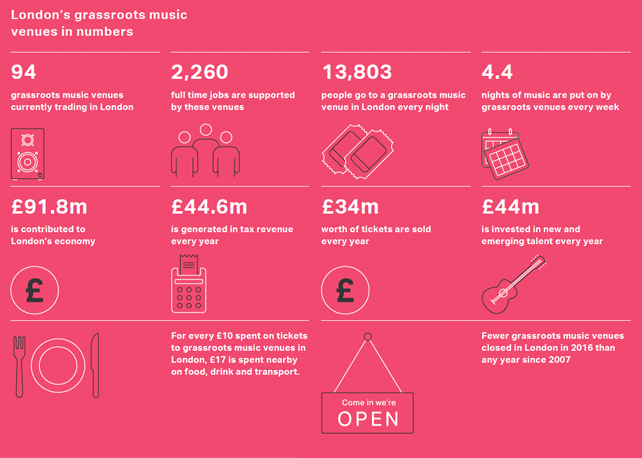 /////
Weitere Informationen:
https://www.london.gov.uk/what-we-do/arts-and-culture/music/saving-londons-music-venues?source=vanityurl
/////
Greater London Authority (2015): London's Grassroots Music Venues – Rescue Plan
»Download (PDF 1,8 MB)
/////
SNA (22.11.2015): Rescue Plan for London's Music Venues