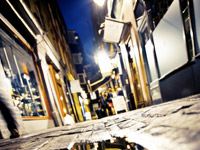 Im Rahmen des EU-Projekts »Club Health«, welches sich mit gesundheits- und sicherheitsrelevanten Fragestellungen im Zusammenhang mit dem freizeitorientierten Nachtleben beschäftigt, wurde das Online-Tool NightSCOPE entwickelt. Mit Hilfe eines Onlinefragebogens, welcher von bestimmten Akteuren zu beantworten ist, und eines automatischen Bewertungsalgorithmus sollen spezifische Problemlagen in der/dem jeweiligen Stadt/Stadtviertel und etwaige Handlungsbedarfe identifiziert werden.
NightSCOPE is an online resource designed to help local policymakers and practitioners assess and strengthen their approaches to providing safe and healthy nightlife. The resource can be used for a city, town or other specified nightlife area. It involves the completion of a short online questionnaire by representatives from up to ten local agencies. The questionnaire assesses four key areas:
– Knowledge of local nightlife issues
– Commitment to safe and healthy nightlife
– Partnership working
– Evidence-based practice

Responses from all questionnaires are brought together in a report. Results are provided using a grading system that shows where approaches appear well developed and where they could be strengthened.

Using NightSCOPE allows local partners to identify and prioritise action to improve their approaches to managing nightlife settings. Progress can be identified by repeating the NightSCOPE process at a later date.

Das Tool-Kit unterscheidet sich von manch anderen Projekten/Initiativen aus Großbritannien dadurch, dass es ausnahmsweise kein buntes Label für Betriebe und Local Authorities (z.B. purple flag) zu gewinnen gibt.
/////////////////////////////////////////////////////////////////////////////////////

stadtnachacht (12.01.2012): EU-Projekt »Club Health«
Mehr Informationen/Links zum Projekt