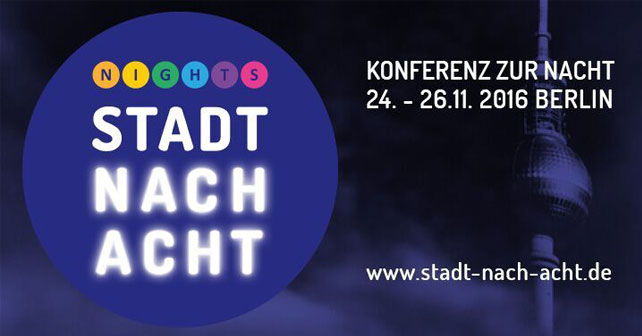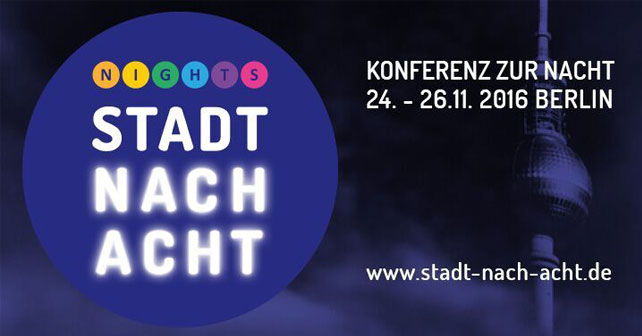 stadtnachacht is proud to to curate the urban planning focus sessions at NIGHTS 2016 Berlin – STADT NACH ACHT conference at Berlin in November 2016.

»For the first time the NIGHTS 2016 Berlin – STADT NACH ACHT – conference brings the night disciplines urban planning, party culture, party politics, night time economy and health under one umbrella together. International speakers will present their own expertise, newest study results and good practice experiences.«
/////
Vom 24.11. bis 26.11.2016 findet die internationale Konferenz »NIGHTS 2016 Berlin – STADT NACH ACHT« statt. Neben Panels und Vorträgen zum Thema Gesundheit und Kultur, legt die Konferenz einen Schwerpunkt auf das Themenfeld Stadtentwicklung. Im Vordergrund stehen die Wechselwirkungen zwischen Nachtleben und Stadtentwicklung, die Potenziale der urbanen Nachtökonomie für die lokale Ökonomie und den Stadtraum als auch die zahlreichen Konfliktfelder die mit einer lebendigen Stadt nach acht einhergehen und in vielen Großstädten ähnliche Frage- und Problemstellungen aufwerfen.
Zu Wort kommen sowohl internationale Referenten, als auch Wissenschaftler, Stadtplaner und Wirtschaftsexperten aus dem gesamten Bundesgebiet.
Die Konferenz soll als Startschuss für weitere Aktivitäten fungieren, die zu einem kontinuierlichen Austausch und Wissenstransfer zwischen Politik und Verwaltung, Stadtentwicklungsexperten, Zivilgesellschaft und den Akteuren des urbanen Nachtlebens beitragen sollen.
/////
Konferenz Flyer (de)
»Download (0,3 MB PDF)
Conference Flyer (eng)
»Download (0,3 MB PDF) 
/////
Liste der bereits bestätigten Vortragenden/First speakers are confirmed.
www.stadt-nach-acht.de/speaker
Registration/Anmeldung:
www.stadt-nach-acht.de/tickets
/////
The NIGHTS 2016 Berlin – STADT NACH ACHT – conference is a co-production between the Clubcommission Berlin and the European NEWNet and is part of the Clubcommission fifteen-year jubilee, together with stadtnachacht.de.
/////